Electric Hoist Winch For Lifting and Pulling
1. Same as her name,this electric hoist winch is made specially for lifting and pulling, 2. Variable speed by variable frequency 3. 3 phase winch voltage 4. safe winch,fix speed and variable speed
Product Recommendation
Product Introduction
Product Parameter
Product Picture
Product Comment
Introduction of Electric Hoist Winch For Lifting and Pulling
1. Same as her name,this electric hoist winch is made specially for lifting and pulling,
2. Variable speed by variable frequency
3. 3 phase winch voltage
4. safe winch,fix speed and variable speed by variable frequency as option.
Electric Hoist Winch For Lifting and Pulling is mainly applied to lifting, pulling and loading or unloading the weight. For example, it can be used to mount and dismount large and medium-sized concrete and steel structure and machinery equipment. Also, it could be utilized as the lifting mechanism of hoisting machinery. Electric Hoist Winch For Lifting and Pulling features orderly-arranged steel wire ropes, safe slinging, smooth transmission and convenient maintenance. This product can be used for the equipment installation in bridge building, port construction, wharf construction, shipyard building and other large-scale factories and mines projects.
Parameter of Electric Hoist Winch For Lifting and Pulling
Model

JM2

JM3

JM5

JM8

JM10

Line pull capacity(kg)

2000

3000

5000

8000

10000

Average speed(m/min)

12

10

10

10

9

Wire rope(mm):

12.5

15.5

21.5

26

30

Reduction

box

Type

JZQ350

JZQ350

JZQ400

JZQ500

JZQ650




Transmission

ratio

23.34

31.5

23.34

31.5

40.17

Drum

(mm)

Diameter(mm)

273

325

406

500

550




Length

480

520

645

900

1000

Capacity(m)

150

180

250

300

450

motor

Type

YZ160M2-6

YZ160M2-6

YZ160L-6

YZR225M-8

YZR250M1-8




Power(kW)

7.5

7.5

11

22

30




Rotate

speed

(r/min)

948

948

953

720

720

Hydraulic

Brake

YWZ-200/25

YWZ-200/25

YWZ-300/45

YWZ-300/45

YWZ-300

Equipment

Dimension(mm)

1060x1500

x750

1600x1100

x820

1400x1910

x950

2050x1640

x1000

2470x2280

x1180

Weight(kg)

630

680

1400

3000

4000
Pictures of Electric Hoist Winch For Lifting and Pulling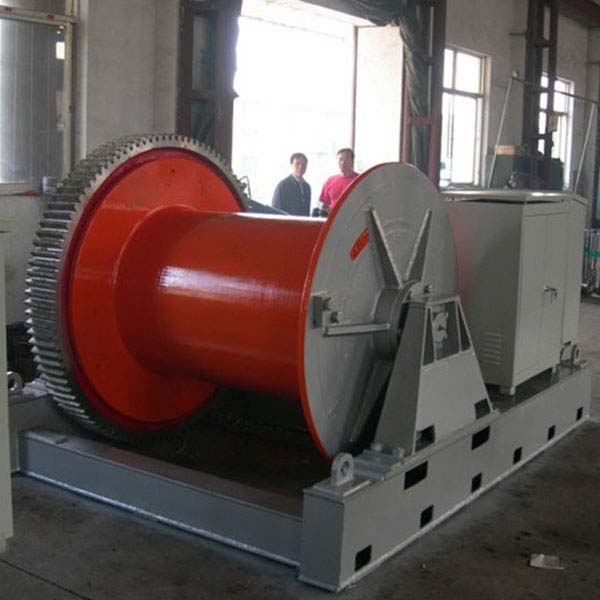 Your Name

E-Mail Address

Enquiry